CUSTOM YACHT FASHIONS
THE YACHT INTERIOR SPECIALISTS
Custom Yacht Fashions is a family – a team of design engineers and fabrication professionals all with the same vision and goal. . . .
to transform your vessel, whether old or new, into the most beautifully decorated and fully outfitted yacht of its kind.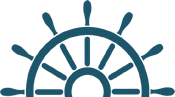 From blinds to beds, bedding to bath, fabrics to furnishings, our goal is to deliver a level of excellence that is unmatched.
Luxury that is affordable as well as beautiful.